Goodbye, and thanks for the great memories to: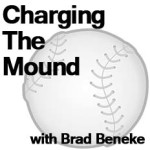 Lance Berkman was the second best switch hitter of his era behind Chipper Jones. He finished his career as arguably one of the best switch hitters in the history of the game. That leads me to a question my editor asked me; "Brad, do you think that Berkman is a Hall of Famer?"  The answer is no I don't think he is.  I wouldn't begrudge him a courteous vote or 10, but he's a guy who may not even make it to his second ballot.
Todd Helton was the heart and soul of the Colorado Rockies, and if that were enough to be elected to the HOF he would be a first ballot guy without a doubt. His numbers may be aided by playing in the rare air of Denver, but to consistently put up the numbers he did was impressive. I cannot give him a vote for the HOF most years, but if I were at only 6-7 players on my list Helton would be a good choice for a courtesy vote just to say thank you for the memories.
Vlad Guererro was the most dominating batter I've seen play, and his arm was reminiscent of Roberto Clemente when Vlad was still in Montreal, but age was not kind to him as it is cruel to a lot of us (as I run my hand over the top of my head where I used to have hair). Normally I link you to stats, but in this case I think this commercial says it all http://www.youtube.com/watch?v=heWK_9qbwuU. Sadly for me as he is a personal favorite of mine Vlad doesn't make the HOF simply due to longevity.
Michael Young is the all-time leader in games played and hits for the Texas Rangers, and was an amazing asset at second, third, and shortstop for them over the years, also filling in at first base and DH while maintaining a magnificent bat.  He didn't play long enough however to merit the Hall either in my eyes. But like Berkman, if he makes the second ballot that will be a great honor and he'd be very deserving.
Andy Pettitte is this generation's Jack Morris.  The numbers are insanely close. Both won a lot of games and both won huge games. Morris had bigger performances. Pettitte was more consistent throughout his career from beginning to end. But a lot has changed in the way that athletes take care of themselves from the 70s through the end of the 2013 season and Pettitte's stats were also aided by this guy named Mariano Rivera, who received his own blogs this year and last. So like Helton earlier, I could only give Pettitte a courtesy vote if there were only six or seven worthy contenders. I just don't see that happening.
Roy Halladay was a dominating force at the top of his rotations in both the American and National Leagues.  He's won the Cy Young in both leagues, won 20 games in both leagues, and authored the second post season no hitter in the history of the game. I may get some to argue with me, but I don't see him as a Hall of Famer either. I think leaving him out of the HOF is questionable, and if he makes it I wouldn't be upset at all, but Halladay would not get my vote.  No 3000 K's, no 300 wins, and I've not come on board fully with devoting myself to the advanced http://sabr.org/sabermetrics to elect someone over the raw numbers — though I appreciate it more and more every year.
If you have a case for any of these players or would just like to talk about your memories of these players please feel free.  I would love to read your opinions and views.  Thanks, and I promise no bean balls as long as you are respectful.
Of the recent retirees, who do you think belongs in the Hall of Fame?
Todd Helton (29%, 2 Votes)
Roy Halladay (29%, 2 Votes)
Brad is right, none of the above belong. (29%, 2 Votes)
Vlad Guerrero (14%, 1 Votes)
Lance Berkman (0%, 0 Votes)
Michael Young (0%, 0 Votes)
Andy Pettitte (0%, 0 Votes)
Total Voters: 7

Loading ...
9 Responses to Charging the mound with Brad – Volume 4
>