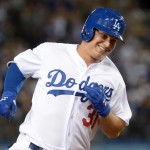 So….been awhile since I've done one of these, hasn't it?
To put it mildly, plenty has happened since the last Artful Dodgers column. Not the least of which was the insane front office overhaul, sacking the hapless Ned Colletti and replacing him with a sabermetrics think tank of the brightest minds in baseball. The legendary coup of Andrew Friedman from Tampa Bay brought over the most coveted executive in the game, followed by Farhan Zaidi from Oakland and Josh Byrnes from Arizona. Before the quick assembly of that group had settled in, heads were exploded even more by the instantly legendary winter meetings. In a few days, they made a total of 10 trades, acquiring Jimmy Rollins, Howie Kendrick and Brandon McCarthy one a single day alone. And of course, the Matt Kemp-for-Yasmani Grandal swap with San Diego that I predictably hated at first, but eventually understood over time.
All that matters, of course, is that this radical restructuring pays off in a championship, as well as continued success in the forthcoming decade. With the calendar officially flipped past April, the status of this mission is so far, so good. Very good. Hell, downright great. Unlike last year's largely inflexible, cluttered squad, the Dodgers are playing like a deep and pluralistic unit so far. Kendrick has been swinging a potent bat, and formed a wonderful double play duo with Jimmy Rollins. The much deeper roster has seen contributions from everyone from Adrian Gonzalez to Alex Guerrero to Scott Van Slyke. Best of all is the explosive rookie sensation Joc Pederson, who's stolen Kris Bryant's spotlight with a powerful bat and nimble glove.
And let's not forget the bullpen, which was an overpriced achilles heel last year thanks to the likes of Brian Wilson, Chris Perez and Brandon League. Instead, the discount and partly home-grown unit of Adam Liberatore, Yimi Garcia, Chris Hatcher, Paco Rodriguez and others has been as close to perfect as could be asked, especially with LA's starters not going particularly deep in games thus far.
Hell, this depth is so good, they've been able to win soundly with Hyun-Jin Ryu, Kenley Jansen and Yasiel Puig all on the DL. While I eagerly await the return of the first two (and big deadline acquisitions, most likely Cole Hamels), I'll be honest: I'm enjoying the Dodgers much more without Puig in the equation. I don't mean to say I'm happy he's hurt in the slightest, but I've tired of his antics to the point where I find it preferable to tune him out. Don't get me wrong, if he does mature and become a great man of the game as I hope, I'll be his biggest defender. But watching the team play so proficiently as one, without relying on a moody superstar like him (or Hanley Ramirez), is refreshing.
And should the Dodgers slump at all, and I begin to feel sorry for myself….I can always remember this as evidence that it could have gotten much, much worse.
Hello again Brushback faithful! It's only been a few weeks since my Max Scherzer piece, but it feels thrice as long given the extent of things packed into my college graduation summer. And trust me, I'm not saying that with any complaint. In addition to a whole bevy of personal projects that of course includes this site, I've completed the first chapter of the book I'm writing for the Sacramento Historical Society about the history of baseball in my city. In a poignant end to that first step, I spent all night into the wee hours of the morning wrapping up this chapter, an assiduous approach that recalled my many all-nighters spent working on papers in college. (To further cement the moment, I wrote to the music of Kid Creole and the Coconuts on infinite loop just as I had in the same finals that Max Scherzer inspired me through.)
As I spent the weekend in Yosemite National Park immediately after the chapter was submitted to my boss, I was understandably feeling pretty triumphant. These good vibes led to a humorous train of thought about how my successes in baseball writing are the closest I'll come to achieving glory in the national pastime. I may never turn on a fastball for a legendary game-winning home run, or pitch a perfect game, but hell: Why can't we baseball writers receive some love too?
How about a great baseball movie of the "Moneyball"/"61*" ilk to chronicle our struggles and triumphs? I envision a tense scene of the writer at his laptop, struggling to come up with the right word. He types and erases a couple in frustration, just like a batter swinging and missing pathetically at the first two strikes. But then, he digs in and focuses on that next word even harder. "The Natural"-style music cues up, and in slow motion he types out the perfect word. The announcer intones: "Holy cow, what an adjective!" OK…not exactly stirring stuff, but allow me a little indulgence over my accomplishments here! None of my teams have won a World Series since we all had mullets and George Bush Sr. was in one of the two highest offices in the land, so I'll celebrate my little victories as I please. Continue reading →
Simmer Down, Manny
Hey Manny Machado! You must be a fan. The feeling is mutual, but replay shows you were just a little over emotional my friend.
Mattingly wearing down?
The Dodgers are usually left to my friend and colleague Marshall, but something tells me that he's too depressed to deal with the underachievers in Chavez Ravine. Plus I know he has a lot of other things going on. Don Mattingly, you are one of my all time favorite players in the history of the game. However, your assessment the other day that your team just isn't very good was a cop out on par with "guns don't kill people …" and "**** happens."
As I write this, the first game of the Dodgers/Nationals series is currently being rain delayed, so I figure this is the right time to look back on the first full month of Dodger baseball and assess the True Blue state of affairs. So, how do the Dodgers look thus far? Well…good enough. They may sit in third place right now with an 18-14 record, but it's not in a way that reflects an irreversibly disappointing start. Nonetheless, it's enough to gauge the incredible strengths and frustrating shortcomings that have pervaded each game thus far.
First, the highlights. A salute to Dee Gordon, who I expected to be a creampuff excuse for a second baseman. This season, he's answered my prediction by leading the majors in stolen bases, all while batting above .300 and making a difference in seemingly every at-bat. On the contrary, I had exceedingly high expectations for the starting rotation and they have exceeded them. Even without Clayton Kershaw, we've been treated to Zack Greinke's historic streak of starts with two or fewer earned runs, Hyun-Jin Ryu's scoreless inning streak on the road, Josh Beckett's gritty renaissance, and Dan Haren's ace-like line that blows the mind when you consider he's the fourth … FOURTH … starter.
Adrian Gonzalez is reaching new levels as a power hitter and producer on offense, and Yasiel Puig has mercifully cut out off-field drama in favor of simply being the titanic player he is. (And seriously, how about that crazy escape story? As I write this, even some things that were looking to be Achilles heels at first (Brandon League's performance, the team's resolve in extra-inning games) are looking up right now. Continue reading →
Have you ever had those moments where you've stopped and realized just how long a week felt? Particularly when it was an up-and-down, eventful seven days? Without a doubt, the past week marked an opening stretch for Dodger fans that was as exhausting emotionally as it was exhaustive in demonstrating everything that will either define a triumphant year or a high-priced flop in 2014.
First things first, the opening series in San Diego. After Brian Wilson and his Khal Drogo beard wasted Hyun Jin Ryu's brilliant start in game one, Zack Greinke and Dan Haren won the next two games with sufficient, if not exceptional, help from the offense and bullpen. But the victories were offset by far greater losses, as both Clayton Kershaw and Wilson were sent to the 15-day DL (thus explaining the latter's seemingly inexplicable meltdown in game one). Before panic mode could set in, however, both injuries were revealed to be far from season-ending material, with Wilson's coming from nerve damage (a relief considering he's had two Tommy John surgeries) and Kershaw's more in the realm of back pain without any serious tears. Being without both players' talents and exceptional personalities on the field is an undeniable setback, but when you've officially exceeded the Yankees in payroll, there's no excuse to not hold first place in time for their return. Continue reading →
Welcome everyone to the first edition of my new column, The Artful Dodgers! Here I'll provide regular analysis and commentary of my favorite NL team (and second only to Minnesota) as they undertake arguably the most hyped season in franchise history. I know Brushback is primarily a league-wide commentary blog, as well as one run by Twins fans, but all the same I think it'll be interesting to follow a top contender from start to finish (Also, I'll include league-wide analysis and misc. observations when pertinent.).
I'm not sure if I'll be able to reach the satisfying level of crisp analysis at True Blue LA or the lethally hilarious and uncompromising nature of Dodger Blues. Hell, knowing the Dodgers' propensity for excruciating heartbreak, this column's greatest purpose could end up being to provide incriminating evidence of me angrily dropkicking someone like Chan Ho Park. But if my commentary turns out to be congruent with a long overdue championship season, it'll prove more than worthwhile. Maybe I can publish all of these columns in a book and use the $13 in profits to buy a Darren Dreifort card for laughs. Sky's the limit, eh? Continue reading →