Here's a little game called Judge(s), Jury(s), and Executioners that the BBWAA (Baseball Writers Association of America) perform every year. The masses call it the MLB Hall of Fame Ballot. Many will never see it, many will face it, and very few will survive it, but the agony is in the purgatory of being on the ballot year in and year out knowing you are worthy of consideration but not quite making it in. I equate it to when the girl just wants to be your friend. Sometimes she dates a scumbag drug-addicted jerk who beats her, but would never dare ask you. At least when I think of a guy like Dale Murphy, who was on the ballot for his allotted forever and left to die alone just short, or a guy like Jack Morris who she even winked at, but just wasn't what she was looking for.
Well, today I want to pretend to play god over someone else's career as well, so here are my choices. Remember, by the rules of the HOF you have to have played for a certain amount of years to get on the ballot so if you didn't play 10 years you don't even get your name on the ballot. You have to be retired 5 years, and finally even as GOD I am only allowed to have 10 votes… so apparently I'm only a demigod and not as high of a moral authority as the HOF board of directors.  HYPERLINK "http://espn.go.com/mlb/story/_/id/12115949/jayson-stark-explains-2015-hall-fame-ballot" http://espn.go.com/mlb/story/_/id/12115949/jayson-stark-explains-2015-hall-fame-ballot Jayson Stark has a brilliant piece on this for ESPN.com.
I suppose I should give you the list of players eligible, and I almost forgot: you are now only allotted 10 years on the ballot. Think of it as a 40 days and 40 nights kind of thing. Here is your list to choose from… oh wait, you don't choose… I do, but not really, they do! Who are they? They are not you (the fans)!  HYPERLINK "http://www.baseball-reference.com/awards/hof_2015.shtml" http://www.baseball-reference.com/awards/hof_2015.shtml
Randy Johnson. Why? The single most dominating pitcher of my lifetime, slightly ahead of #2 Pedro Martinez, Roger Clemens and maybe even Tom "Terrific" Seaver.
Pedro Martinez. Size isn't everything, stuff is, and Pedro had the cocksure and creativity to beat you with a 94 mph fastball or a 78 MPH curve. He simply knew he was better than you were even if you were on this list or made this list in years past.
Craig Biggio. Catcher, centerfielder, and second baseman…All Star at all three positions, 3000 hits, and when you're not a home run hitter a couple of other stats have to be looked at like oh this one:  HYPERLINK "http://www.baseball-reference.com/leaders/2B_career.shtml" http://www.baseball-reference.com/leaders/2B_career.shtml this kids is what we like to call gap power. And while he wasn't the best defensive player at his position, 414 stolen bases and a career .363 OBP makes him a top of the lineup nightmare for, oh, about 20 years!
Barry Bonds. But But BUT!!! He did PEDs Brad!!!! Yeah, he also was the best player of the generation, and it's me playing god here not you so judge not lest ye be judged
Roger Clemens. See Bonds but remove the bat and add a pitching rubber.
Mike Piazza. Did he or didn't he? Maybe, but despite being a below average defensive catcher the man was a warrior and an offensive machine for his career. To me the question is do you go in as a Met or a Dodger?
Mike Mussina. Go back and click the link on the HOF ballot and then look at Moose's numbers…realize he left on top after winning 20 games. While he never won a Cy Young award he was a perennial vote getter, and he pitched his entire career in the AL East.  Going new school on this one…look at his WAR.
Curt Schilling. Damn it! I hated Schilling as a player…truly one of my all-time least favorite players, but that blind hate did just that… it blinded me from how impressive he truly was. Bloody sock, or bloody moron aside he was big game Curt and no one was ever better over a career.
John Smoltz. He wasn't quite ECK, but for a two way pitcher (starter and closer) no one else compares, and in big games? John didn't get the notoriety that Greg Maddux or Tom Glavine got, but in the postseason they hid behind his back… he was the Braves best chance to advance every season, and a key reason they made the playoffs every year.
Fred McGriff. No steroids, no tabloids, and the only reason he didn't hit the 500 home run club is because his back gave out on him at 493 (the same number that some guy named Lou Gehrig had). 100% class on and off the field. He was a dangerous hitter, a power hitter, and he was a devil to get out with his career OBP, and K rate. And as a god/demigod (pretend)… how can one not have appreciation for The Crime Dog?
Why didn't I vote for the others? Because I'm subject to the laws of the HOF.
11. Don Mattingly 12. Allan Trammell 13. Gary Sheffield 14. Jeff Kent 15. Larry Walker 16. Nomar Garciaparra 17. Carlos Delgado 18. Tim "Sniff" Raines
Another year, another class enshrined in Cooperstown. Usually, my first instinct is to bemoan those excluded and bitch for the trillionth time about how crooked the voting process is. While I still think that process needs to be dramatically overhauled (I say replace the baseball writers with former players, managers, coaches, executives, etc.), I have to admit this year's class is flawless. Not only did Craig Biggio get in before running into perennial snub status, but having John Smoltz, Randy Johnson, and Pedro Martinez in for a resplendent pitching class is a thing of beauty. I already made my case for Biggio in last year's ballot, and I feel Johnson, Smoltz, and Martinez don't need any further explaining or defending. Thus, my piece for 2015 will address only those who I feel were overlooked, and will hopefully get in next year.
Main Ballot
1. Alan Trammell: Man, I've been struggling with this one for years. I've always been a fan of Trammell, both on his own and alongside Lou Whitaker to form perhaps the greatest double play combo in baseball history. Not to mention, he was one of the legendary 1984 Detroit Tigers, easily among the five best teams to ever play the game. But for some reason, I always nudged Trammell into the "really good but not quite great enough" category when it came to being in the Hall of Fame. Nowadays, I'll admit I was dead wrong about that. If anything, he's simply an overlooked player that should be in by any measure. Baseball Reference's WAR generator has him as the 93rd best player of all-time, and he boasts a .285 career average, 2,365 hits, four Gold Gloves, and the 1984 World Series MVP. Those put him in the same arena as inductees Barry Larkin and Ozzie Smith. Time to make him an inductee as well.
2. Mike Mussina: Last year, when I was making my picks for my full ballot, I was cold towards Mussina. He struck me as one of those perennially great pitchers who just wasn't quite superlative enough for a plaque in Cooperstown. (Granted, this wasn't helped at all by playing for many bridesmaid Orioles and Yankees teams.) Not to mention, if you scrutinize his career for the preferred sexy pitching accolades (career ERA, 20-win seasons, Cy Young Awards, etc.), he doesn't look so pristine. However, my colleague Brad was insistent that he belonged, and as I took a closer look I changed my mind. First off, Mussina was a top-tier starter who spent his whole career in the American League, at a time when PED's and the designated hitter coupled together to make the game more explosively offense-oriented. Also, his total numbers are far from shoddy: seven Gold Gloves (one of the best defensive pitchers of his era), 270 wins, and 2,813 strikeouts. Basically, he's just above or next to Jack Morris, without the rings. I say Moose gets in, but I'll admit it's a debatable matter. If I had to pick between him and Trammell, I'd throw all my weight behind Tram.
3. Mike Piazza: I already laid out a good case last year, and while I'm glad to have a pitching-heavy class for 2015. that only kicks the inevitable down the road. 2016 should be Piazza's year to get in, no excuses.
Golden Era Ballot
Alright, this is the nitty gritty of my ballot right here. Again, the main inductee class of Biggio, Johnson, Smoltz and Martinez was a triumph. It's with the Golden Era ballot that the HOF really laid a goose egg this year. 16 members of the committee were presented with 10 candidates, each of whom contributed something seminal to game…and not a single one was inducted. So disgraceful was their snub that even Rolling Stone did a story on it, and rightfully so. Whether or not the BBWAA get it right in a given year, the Golden Era committee should always be relied upon to rectify any snubs and give legends their due. Their failure to do so this year was disheartening, and hopefully will be a distant memory when most (if not all) of the 10 snubs this year get in in the coming years. And hopefully, unlike in Ron Santo's case, before they pass on.
1. Tony Oliva: I'll be honest: For quite some time, I would doubt myself when making Oliva's HOF case. I knew that he had worthy numbers before his career was cut short by gruelling injuries in the early 70's, but I always figured I was letting my Twins bias drive my thinking. Before that cursed injury, though, Oliva packed in a lifetime's worth: three batting titles, a career .304 average and eight All-Star selections. Not to mention, the scenario of having great numbers but being cut short by injury applies to HOF inductee Roy Campanella, whose place I don't dispute one bit. Thus, Oliva is in. If there was one player that should have been a no-brainer for the committee this year, it was him.
2. Maury Wills: Even as a Dodgers lunatic, I hadn't given Wills' numbers a perusal in some time, at least in a "should he be inducted" mindset. Man oh man, should he ever: .281 career average, 2,134 hits, 586 stolen bases, and three World Series championships. Not to mention, he's the man who singlehandedly revived base-stealing with his 104 swipes in 1962, the same year he won NL MVP. He probably had the most complete career of anyone eligible on the Golden Era ballot, making his exclusion all the more perplexing
3. Anyone!: I realize this could dilute my analysis above, but the truth is, any of the 10 candidates could have been justifiably selected. If not for their numbers alone, at least for their personalities as well. That doesn't sound like a cogent case for induction, but the men up for consideration this year (Luis Tiant, Jim Kaat, Gil Hodges, and Minnie Minoso also among them) were some of the best characters the sport has ever known, in addition to being among the greatest players of their time. While I seek to grow in my understanding of statistics, even the most rigorous evaluation of the game should always have room for heart and personality. When the stats are all counted up and documented, it's the fun swagger of a player at the top of their game that sticks with you most (think Tiant smoking his stogies in victory). Or, like Kaat, a good sense of humor that endears you to fans even long after you've hung up the spikes. Even with just one choice, the Golden Era committee could have recognized both talent and heart. Ultimately, they chose neither.
Goodbye, and thanks for the great memories to: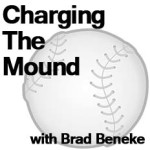 Lance Berkman was the second best switch hitter of his era behind Chipper Jones. He finished his career as arguably one of the best switch hitters in the history of the game. That leads me to a question my editor asked me; "Brad, do you think that Berkman is a Hall of Famer?"  The answer is no I don't think he is.  I wouldn't begrudge him a courteous vote or 10, but he's a guy who may not even make it to his second ballot. Continue reading →
Atlanta Braves teammates Greg Maddux and Tom Glavine were selected to the Hall of Fame with 97.2 percent and 91.9 percent, respectively, of votes. Frank Thomas, the Big Hurt, also eclipsed the necessary 75 percent in order to be inducted. All three were eligible for the first time.
Maddux, who won 355 games during his career, received votes from 97.2 percent of voters to lead the 2014 class. Glavine was next at 91.9 percent. Thomas received 83.7 percent.
Here is the complete list of players eligible for votes. Full results of the voting are here.
The trio joins Tony LaRussa, Bobby Cox and Joe Torre, who were elected in December by the Expansion Era Committee. The group will be enshrined July 26 and 27 in Cooperstown, N.Y.
In something of a surprise, second-year eligible Craig Biggio, who played catcher, second base and outfield for the Houston Astros, missed by .2 percentage points.
Players with the taint of steroids and other performance-enhancing drugs tied to their names continued to struggle in their efforts to reach the hall. Barry Bonds received 34.7 percent of votes while Mark McGwire, Sammy Sosa and Rafael Palmeiro scored 11 percent, 7.2 percent and 4.4 percent respectively.
Jack Morris was foiled again in his 15th and final year on the ballot.
Three Brushbackpitch.com contributors posted Hypothetical Hall of Fame ballots earlier today. To read about who Brad Beneke, Marshall Garvey and Andy Tellijohn would have voted for, click their names.
A year after the Baseball Writers Association of America neglected to vote in a single player, the 2014 ballot provides a greater array of more enticing choices. Not everyone will get in (sorry Mike Timlin and Richie Sexson), but even the most implacable analyst would be hard-pressed to not pick at least three. Here are the inductees on my hypothetical ballot, along with runner-ups who came very close and could just as easily have gotten the call:
1. Greg Maddux
The easiest choice, first-year nominees and all. His career numbers (355 wins, 3,371 K's, 3.16 ERA) are but an abbreviated look at his legacy. He was the winningest pitcher of the 1990's, anchoring the "three kings" Braves staff (along with Tom Glavine and John Smoltz) that won eight division titles, three NL pennants, and the 1995 World Series. He arguably defined the idea of a defensive pitcher, winning a record 18 Gold Gloves (including 13 consecutive ones from 1990 to 2002). He also netted four Cy Young awards, eight All-Star selections, and four NL ERA titles. In the age of live-ball era after 1920, only Warren Spahn has more career wins than Maddux. As good as it will ever get in this or any era. Continue reading →
Our votes don't count for anything, but this is my wheelhouse. These are the players from when I was a kid collecting cards, and watching 500-plus games a season. Here is the complete list of candidates.  The rules are the same as the real voters.  We can vote up to 10 players and as few as none.
1. Greg Maddux
He was the smartest pitcher and had the best command of any pitcher I've ever seen. And he had statistics that rival anyone from the history of the game especially since the 1920s through the modern day. Continue reading →
I like that it is difficult to get into the Hall of Fame. To me it's better to keep a great player out than to be too loose with your entry standards and let a less than excellent player in. Now, the Baseball Writers Association of America took that to an extreme in 2013 by not inducting anyone. But I might be the only person in America who wasn't overly offended that Craig Biggio didn't make it in his first year of eligibility.
Don't get me wrong. I think Biggio is a Hall of Famer. He did everything well. And he'll get in, most likely this year. But his career numbers, while impressive, don't jump off the page at me and scream "This guy has to go in on his first shot." Then again, in my eyes, few do.
1. Greg Maddux
Few get in on the first ballot, but Greg Maddux is one of the exceptions. The Cub, Brave, Padre and Dodger starter was pinpoint, posting at one point seven consecutive sub-3.00 ERAs – that included back-to-back seasons of 1.56 and 1.63 ERAs. He won 355 games in an era where 300-game winners were heading toward extinction. His 3.16 career ERA and 1.14 WHIP and four Cy Young awards … Maddux was an all-timer. Continue reading →
Tony La Russa's unanimous election to the Baseball Hall of Fame in Cooperstown last week has really gotten under my skin. There are the little things like being McGwire and Canseco's manager through the birth of the Steroid Era. His DWI sticks in my craw as well.  Throw in the fact that he was McGwire's manager through the heydays of the steroid era, and I guess I have questions about the unanimous nature of his election.
Maybe the Hall of Fame members on the Expansion Era Veterans Committee doesn't have to look at CHARACTER OF THE PERSON like the Baseball Writers Association has to consider?
Hall of Fame Members like Bert Blyleven, Eddie Murray, and Jim Rice (Blyleven on the committee) (and all three are some of my all time favorite players) probably all have some serious love for a guy like La Russa who is renowned for being a "difficult" interview, and a "difficult" person.
I'm not comparing him to the disgusting Ty Cobb or awful Cap Anson, but to not have a single person stand up against him says to me that character must no longer count.
If that's the case I expect the Expansion Era Committee to start letting in Rafael Palmeiro, McGwire, Canseco, and, in coming years as eligibility allows, Roger Clemens, Barry Bonds, Alex Rodriguez, and handfuls of other players who've been associated with steroids when the BBW Association continues to refuse them (as I'm glad they have!).
Talent wise Barry Bonds should not only have been a first-ballot Hall of Fame inductee, he should have challenged for the highest percentage of anyone who has ever been elected. Because he cheated, knowingly or unknowingly, he was not. For that I am glad.
We can find plenty of players who have done worse than what Bonds is accused of who are in the HOF, including Ty Cobb, who killed a man, and Cap Anson and other racists who helped keep the game segregated for decades.
We can find others who were questionable personalities: Reggie Jackson, Eddie Murray, Jim Rice and Bert Blyleven were all considered media unfriendly. Roberto Alomar spit in an Ump's face. Kirby Puckett had his demons and Gaylord Perry was famous for his spitball, which was banned before he was even born. Continue reading →
While a lot of purists are sitting smug in their cocoons of self imposed perfection I look at this year's Baseball Hall of Fame vote as a crying shame of self-righteousness. We can look at the facts, and we can look at the implications of perceptions, but we have to be careful when we start playing God over others.
Craig Biggio had more than 3000 hits, and he played over 250 games at catcher, second base and centerfield. He's the only player to do that. Biggio also won Silver Sluggers at catcher and at second base; he is the only player to have done that. He stole 414 bases and is fifth all time in doubles.
All but two players with over 3000 hits who are retired are in the hall of fame and Rafael Palmeiro was busted for steroids after speaking to Congress. The other is Pete Rose who broke the only commandment of baseball: Don't Bet on Baseball.
I've seen some who have ranked Biggio among the top five second basemen in the game's history. I'm not sure I'd go there because off the top of my head that's Roberto Alomar, Joe Morgan, Ryne Sandberg, Jackie Robinson and Eddie Collins. But this link will take you to a list of all the second basemen in the HOF as of today… I'll let you decide where he ranks, but there is not much question that he belongs with them.
Biggio was never besmirched with rumors of steroids and if you contact the Houston Astros to talk about Biggio's charity works with the community during his tenure with the team you will get a long list. The facts don't lie. His numbers are deserving of enshrinement. Even if we wanted to play God, we can't get him on his integrity. He was a Roberto Clemente Award winner for best citizen to the game in 2007, and a Branch Rickey Award winner in 1997. There are no police reports for beating a wife, being a drunk, beating up fans or anything else. I couldn't even find a speeding ticket on him.
There is zero reason that he shouldn't have gotten 75 percent of the vote or higher.
To see who Brad would have voted for, check out his Unofficial Hall of Fame ballot.