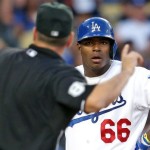 By Marshall Garvey
Let me start this piece with a blunt declaration: I can't stand Yasiel Puig. Can't stand him for anything. Not one bit. Not. At. All
Are we clear? Good.
Just about every piece written about Puig these days presents him as a fiery mixed bag of a player, one with A-class talent but a maddening lack of discipline to really become one of the elite athletes in the world (as he knows he's capable of). Well, not this one. Yes, that aforementioned statement is true enough, but my attitude towards the Dodgers' controversial superstar is wholly negative these days. I can't fathom anything about him: his incessant disregard for learning the fundamentals of baseball, his arrogant showboating on the most routine plays, his refusal to adjust as a hitter, his erratic moodiness, his unaccountability….and if anything, the level of talent he has makes his inconsistency and disregard for the fundamentals all the more infuriating. If he showed even a basic, disciplined respect for the science of baseball, he'd be far and away the best player in the National League. Instead, in a year slated to be his definitive breakout, he's hitting .266 with four homers and 18 RBIs, on top of an injury stint. Hardly the mind-blowing MVP campaign we hoped for, to say the least.
Not to mention, for all of the hype of him being a catalyst player, he's also proven to be a liability in the playoffs. Granted, this is overshadowed by the shocking, dramatic missteps of Clayton Kershaw in those same postseason series. Don't get me wrong, Kershaw has certainly failed in the playoffs in huge moments, and still has something to prove. But Puig is arguably worse, being thoroughly held in check in the two series against the Joker to the Dodgers' Batman, the St. Louis Cardinals. Last October was particularly brutal, with St. Louis pitchers ringing him up a grand total of eight times before he was benched by Don Mattingly for game four at Busch Stadium.
And this is all before getting to the cornucopia of stories recently put forth for public consumption by Molly Knight. Knight's recent book, The Best Team Money Can Buy (which covers the team's big budget transformation over the past several years), is packed with moment after moment of Puig driving just about everyone in the Dodger organization and their mother insane. Nearly getting in a physical altercation with Zack Greinke, almost getting in a fight with Justin Turner after trying to bring his entourage on a plane strictly for wives and girlfriends, having an affair with a minor league coach's daughter, constantly arriving late to practice, and more. Most hilarious (and fitting) is the story behind his #66 jersey number, which was selected as a shorthand of 666 by the clubhouse manager. On the subject of trading Yasiel, one anonymous Dodger player put it forthrightly: "At this point, it would be addition by subtraction."
In a much less vitriolic, but still discernible way, Puig recently even drew a barb from the usually mild-mannered Don Mattingly. In an interview, Mattingly bluntly put the onus on Puig to adjust as a hitter. What stood out to me about this is that rarely does a manager call out their player like that. Usually, a manager's discussion of a player's disappointing performance amounts to some generic babble about how great he is, and how he'll get it going again soon and whatnot. For the life of me, I can't once recall a manager actually calling out one of their key players in the media.
Meanwhile, with the July 31 trade deadline drawing ever nearer, the Dodgers find themselves desperately in need of another ace starting pitcher. With Clayton Kershaw settling into his usual form as of late, and Zack Greinke in the midst of a Drysdale/Hershiser-esque scoreless streak, they have easily the best 1-2 punch in baseball. But literally everyone else anywhere near that level (Brandon McCarthy, Brett Anderson, Hyun-Jin Ryu) is hurt, and the revolving door of back-end starters (Brandon Beachy, Scott Baker et. al.) hardly captures the imagination. Not to mention, that once ballyhooed discount bullpen, after a dominant start to the season, is regressing pretty badly. (But hey, at least we don't have Brian Wilson and Chris Perez, amiright?)
So, what's this Dodger front office braintrust to do? Well, in my view, it's a simple equation: Trade Yasiel Puig as the centerpiece of a package for another starting pitcher…and perhaps more.
Even with all of Puig's negative attributes considered, many might respond to this by saying that he's still a major superstar with plenty of potential yet to be realized. He is, after all, only 24, and his original breakout in the middle of 2013 showed he can do literally everything to carry a team when he's at his best. When he gets a well-timed hit, or throws out a runner with his cannon arm, I can't deny there's a dynamic electricity to it.
Not to mention, the idea of trading a potent Cuban superstar outfielder under team control for an established ace to "go all in" for a championship is exactly what happened with another one of my teams last July. I'm of course referring to Billy Beane's crazy decision to trade Yoenis Cespedes for Jon Lester. You don't have to remind me of that…I'm STILL traumatized by the embarrassing collapse the A's endured immediately thereafter, to the point where I consider the trade and its subsequent fallout one of my top three worst sports heartbreaks.
In my view, however, this is the exact opposite of that scenario. The Cespedes/Lester trade failed because Cespedes was a team leader and clubhouse glue who was at the heart of a cohesive unit that had grown together. Puig is perhaps the worst team cancer imaginable on a squad that's veritably still seeking that pluralistic chemistry. He has a selfish attitude that enrages teammates, and an arrogant disrespect for the game's fundamentals that's a nightmare for coaches. And as the stories and quotes mentioned before make clear, he's clearly not welcome company for many throughout the organization.
Most importantly, trading Puig could be just the thing the Dodgers front office needs to do to hang on to their most cherished prospects while still getting the pieces they desperately need for the second half. With Joc Pederson enjoying a potential Rookie of the Year campaign after not being traded last summer, and Corey Seager and Julio Urias now deemed untouchable, the new front office has made their commitment to shoring up the farm system loud and clear. Puig is young enough, while also being a proven star, to be the equivalent of a top prospect in a huge trade.
Finally, if history needs to be factored into this decision, then let us not forget the Dodgers have traded talented headcases before. First up is Pedro Guerrero, who was traded in the middle of the 1988 season for John Tudor. Then there's the case of Raul Mondesi, whose profanity-laced tirade in 1999 demanding he be traded got him his wish granted later that year.
Trading Puig, meanwhile, comes in a much different era of Dodger baseball. And one with far, far higher stakes. Guerrero was dealt after having already helped the team win a World Series in 1981. Mondesi, insufferable as he was, was but one factor in the sloppy mess that was the late 90's teams. At this moment in time, Los Angeles is clicking like an elite franchise in many regards, with a record-setting payroll and a richly stocked farm system that could make them a force to be reckoned with for the next 10 years. But they're also chewing on a quarter-century championship drought, and need to make one last set of crucial moves to complete the roster for the do-or-die gauntlet of October.
So, to get to my final verdict: Build a package around Yasiel Puig, with two or three other prospects. The ideal target would be the Philadelphia Phillies, who are set to trade Cole Hamels as part of their belated rebuilding process. Hamels is the perfect pitcher for L.A., as he's under contract, pitches left-handed, and has extensive postseason pedigree (including MVP in both the NLCS and World Series in 2008). Given the Dodgers' immense bullpen regression, Philly could also throw in a reliever or two, although I'd hesitate to welcome the sight of Jonathan Papelbon in Dodger Blue.
And for another possibility (lest I sound like some goober homer in a comments section), dare I say this package could be enough to get Johnny Cueto AND Aroldis Chapman from the Cincinnati Reds? After all, things are getting grim fast in the Queen City, and they need to start rebuilding immediately if they want to have any chance of competing with the Cardinals, Pirates and Cubs (all of whom are established or forthcoming powerhouses) in the next five years. A young, established superstar with potential yet to be fulfilled, as well as a host of prospects, is an enticing offering for either club.
Whatever route Friedman, Zaidi and co. take, I certainly hope it involves jettisoning Yasiel Puig, all benefits and risks considered. The Wild Horse (as Vin Scully endearingly calls him) has admittedly made for some of the most electric moments at Dodger Stadium in the past 20-something years. But this horse has also made quite a mess in the stable, and it's high time we set him free and let him roam elsewhere.